Reducing Aerosol Food Waste
As an environmentalist since my youth, it is not often that a project serves several passions, simultaneously.  However, as we push to recycle all components of the aerosol package and for all types of aerosol products, recycling non-empty aerosols in the food products category provides me with just such an opportunity.
Food product aerosols are a significant category representing approximately 15% of US aerosol products, having shown steady growth for a dozen years before experiencing small declines the last two years.  The category includes cooking pan sprays, cheese products, whipped cream, and icing/cake decorations, among others.  Within these food-related aerosol packages we encounter oils and thick creams or batters, all containing varying amounts of food calories, proteins, and other nutrients.  As with other aerosol products, we strive to assess the value within the individual aerosol products to be recycled, and determine the best use for those quality products in recognition of their original intent.
Food Aerosol Waste – A Daunting Challenge
It would be difficult not to acknowledge the existence of food waste – it is everywhere. To abate it, we must remind ourselves of the scope of it. The USDA estimates food waste at between 30-40 percent of the food supply at an annual cost of at least $200 billion. Globally, the scope of the challenge is comparable. It is split into two categories; food loss is the (larger) uneaten portion of edible food lost before it makes it to the store, and food waste is the portion that is discarded either by retailers or consumers.
Attention Spawns Action in Reducing Food Waste
Recent years have brought significant attention to the issue. Many leading companies, encouraged and recognized by the (USEPA) and USDA, have become U.S. Food Loss and Waste 2030 Champions. These are businesses and organizations that have made a public commitment to reduce food loss and waste in their own operations in the United States by 50 percent by the year 2030. The list includes Ahold Delhaize, Aramark, Blue Apron, Bon Appetit Management Company, ConAgra, Compass Group, Farmstead, General Mills, Giant Eagle, Hello Fresh, Hilton, PepsiCo, Weis Markets, Kellogg Company, Kroger, Campbell Soup Company, Sodexo, Walmart US, Wegmans, Weis, Wendy's, Walt Disney, Unilever, and YUM! These and other public and private efforts may have been temporarily revised in recognition of the pandemic.
In last six months due to COVID-19, food loss was exacerbated as restaurant and school lunchroom closures spotlighted the time-sensitive and delicate balance within the food supply chain. Painful decisions to plow over food crops and dump vast amounts of milk to cut additional losses were the unavoidable results of the abrupt, artificial collapse in demand. Once the COVID-19 upset is in the past, the same supply chains will rebalance but the food waste will undoubtedly return to pre-pandemic baseline levels, ideally after having galvanized all of us more in efforts to minimize it.
Recycling unsaleable food aerosol products.
For our part at Recycle Aerosol, the experience of 2020 strengthened our resolve to lean into those tenants that drive our business model – securing the best reasonable reuse value for every aerosol product we recycle. Our solution for aerosols in the food category comes through maintaining and strengthening relationships with the local farm community. Farming has always been a challenging business, but even more so now. By separately capturing the extracted food products from our recycling process and donating them to livestock farmers, we are helping this impacted rural community while providing a better alternative for these unsaleable food products that would otherwise be landfilled, incinerated, or burned for energy. We found forward looking farmers, having weathered uncertainties of COVID-19, were receptive to working with us to develop this new sustainable practice.
Providing a continuous, economical and nutritious feed for livestock ranks high among the many challenges farmers face, and using food waste as animal feed has long been an accepted practice.  Sadly, the vast majority of all food waste is still either landfilled or incinerated.  The rest is either composted, anaerobically digested or absorbed as animal feed.   Other than donation to food banks, emergency relief efforts or other food distribution efforts, animal feed is the preferred option for managing food scraps because it supplements the farmer's purchased feed, while reducing the land, water, nutrients, labor and energy required to grow new feed. The fact that the practice also eliminates landfill or incineration costs serves as the icing on the cake.  The US EPA illustrates these rational preferences in their Food Recovery Hierarchy: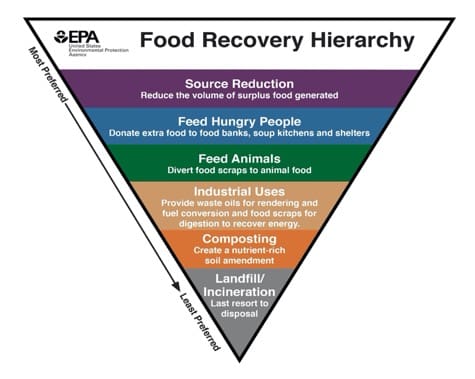 Being a part of the solution
Although the food products we extract from the edible aerosol products we recycle are an insignificant supplement, it is nonetheless welcomed.  The volumes of feed consumed by livestock are massive, and the calories, proteins and other nutrients gained by blending in small amounts of our aerosol food products are merely a supplement.  Farmers and feed managers who want to participate can meter in the added nutrition as they optimize their herd's maintenance, nutrition and weight gain, while assuring the feed is desirable to their animals.
The aerosol industry can take pride in being a small part of the solution to food waste, while being content that the vast majority of the quality food aerosols produced are otherwise consumed through their intended uses.  Brand owners, retailers, consumers and other stakeholders can be encouraged by our push to go beyond just checking the "recycling" box.  Farmers have not provided us with any quantitative data, but they like the program, and I am pretty sure we have gathered more than a few appreciative nods and winks from the barnyard inhabitants who seem to recognize us as their benefactor.
Here is a link to the complete world aerosol magazine article here: www.worldaerosols.com